Research reveals that the worldwide flooring market size amounted to $388.4 billion in 2020 and it's expected to increase at a CAGR (compound annual growth rate) of 6.1% during the next eight years. This growth is primarily driven by increasing demand for sustainable and cost-effective floors among consumers and real estate investors.
Because of hi-tech manufacturing methods and innovative industrial practices, you can find several flooring options in the market, that are not only cheap but also durable and stylish.
Sheet Vinyl Flooring
Sheet vinyl is an ultimate flooring option for a low-budget house repair project. Sheet vinyl floors offer high comfort, durability, and a unique aesthetic appeal. They're available in a variety of patterns and colors so you find a sheet vinyl that matches your taste.
What's more is that sheet vinyl is very easy to install. You don't need professional assistance to install a sheet vinyl so can save installation costs as well.
However, please remember that sheet vinyl may dent faster than other flooring options and can be fairly challenging to remove.
Laminate Flooring
Do you want to give a modern yet elegant look to your home, without investing too much in its flooring? A very popular alternative to hardwood flooring is laminate flooring.
Laminate floors are low-maintenance floors offering higher durability. It's, however, important to note here that laminate floors can't be resealed or refinished after installation. So, if there's any damage, you'll have to replace the floors.
Besides, they can also damage very quickly if they come in direct contact with water or moisture. Just like sheet vinyl, laminate floors can also be installed easily without professional help.
What's important to remember here is that laminate floors can cause doubt in discerning customers because of their fake appearance. Try purchasing high-quality laminate floors to prevent this situation from happening.
Polished Concrete Flooring
Looking for a long-lasting flooring option? Polished concrete floors require minimal maintenance and offer long durability. They're also highly sustainable and eco-friendly.
Polished concrete needs to be properly mixed and prepared to a certain degree before installation, and hence, it's best if you seek professional assistance in installing a polished concrete floor.
Polished concrete flooring may cost you a little higher than usual, but once they're installed, you won't regret the investment.
Best House Flipping Loans in New York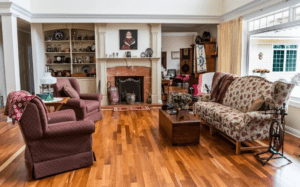 Want to make sure your house flipping project doesn't flop? Looking for a reliable private mortgage lender in New York to acquire a fix and flip loan for real estate financing?
If you want to get a short-term hard money mortgage to purchase a house, remodel or repair it, and then sell it at a higher price, we've got you covered.
Insula Capital Group is a leading private mortgage lender committed to making the loan process simpler and convenient for real estate investors. We offer a streamlined loan approval and application process to our clients.
For more information, reach out to us today!